Ten years ago to this day, on November 17, 2010, Ethan Watrall officially launched a new blog, "Play the Past", dedicated to a small community of scholars and enthusiasts, seeking an on-line venue to discuss ideas about the new culture of "gaming history".
Hosted by Watrall at Michigan State University's Center for Digital Humanities and Social Sciences, a.k.a., MATRIX, the Play the Past blog quickly picked up steam, and assembled together a diverse crowd of cultural heritage and gaming culture enthusiasts. In the first few years of its existence, Play the Past attracted contributors from fields of practice and study surrounding the emerging "digital humanities", from media scholars, game studies scholars, to historians, to educators and the occasional game designer.
From the start, the musings, posts and articles published on the blog blended cutting-edge critical approaches with the personal passion-projects of individual writers. As time went on and the blog grew, Play the Past articles were shared and discussed within, and outside this community. Many posts were brief and timely incursions into personal curiosities. Others grew into fully-fledged articles (and article series), and some were reworked to be published in academic journals and book compilations.
By the time Watrall passed on the torch to Trevor Owens and Sean Graham in 2013, Play the Past was on the way to becoming one of the premier publishing platforms on the burgeoning field of "Historical Game Studies". Five years after inception, Play the Past publications were taking on the status of "evergreen" content on the web—works to refer to, to anyone interested in exploring ideas of "gaming history".
Fast forward to 2020. Though the original community has for the most part dispersed, Play the Past continues to this day to produce original content, and bring in new voices that reflect the diverse theoretical backgrounds and individual sensibilities of its authors and contributors.
Anyone happening onto the blog for the first time will no doubt notice the treasure trove of critical writings waiting to be discovered. In the spirit of celebrating Play the Past's founding community and its accomplishments over the last ten years, we, Peter Christiansen and Gilles Roy, current editors of Play the Past, are proud to deliver for you this Play the Past retrospective over the next series of posts on our favorite blog. 🙂
For you, dear readers, "The Story of Play the Past".
Why Play the Past
On first impression, Play the Past is a website that features writings by various contributors on the peculiar junction of games and history, with an academic bent.
Regular perusal of the contents of the site will reveal a set of themes that run through the many takes on video game (and board game) culture by various authors. The first, obvious one is identified by the name of the site—Play the Past. Namely, how the "stuff of history" is altered, or enhanced, by a "ludic" playful approach. In other words, Play the Past is about games of various game genres that delve into the historical record of humankind to deliver some form of entertainment, or simulation value.
More than that, the writers of Play the Past are as much interested in the why as the how questions of (non-)digital interactive history. Writers on Play the Past have tackled such a diversity of topics covering representations of history in games, video games and collective memory, virtual anthropology and "archaeogaming", and the critique of (Sid Meier's) Civilization from a post-colonial perspective—amongst many other themes. Not to mention the popular "Teacher Design Notes" blog posts delving into classroom uses of games for teaching historical subjects and topics.
If game publishers and designers seek to deliver original takes of historical narrative through their game projects, Play the Past authors try to draw connections between games and the wider culture that receives them, further than the ken of gamers. This goes beyond the idea that games are simply newfangled "vehicles" for historical narrative, just as movies and books were once the mainstay for popular and academic history. The question at the forefront of Play the Past authors' preoccupation : "How can games and play provide new insight into our relationship with collective memory, and cultural heritage?"
In other words, every writer on this blog approaches games as both a player and thinker. And it is with this idea in mind that we propose to provide you with the foundation story of this community and blog (part 1), as well as an overview of the cast of characters that comprise the "soul", so to speak of Play the Past (part 2, in a follow-up blog post).
How It All Started
Though our blog began as an informal group of new media scholars looking for an outlet for their explorations, the principal instigator of Play the Past was Ethan Watrall.
Back in 2010, Ethan and a group of budding educators and digital humanities scholars were discussing—through their respective academic grapevines—the possibilities of forming a group dedicated to the nascent field of "historical game studies". By mid-2010, a fledgling group had assembled around Watrall, who proposed that launching a public platform for their discussions would help solidify the core concepts that would come to define this new subdiscipline of game studies—itself a relatively new field of academic inquiry, blending approaches from the humanities, the social sciences and information technology. 
Watrall's immediate inspiration for Play the Past was ProfHacker. Though rather terse in its self-description as a blog that "delivers tips, tutorials, and commentary on pedagogy, productivity, and technology in higher education", ProfHacker was in reality an informal group of scholars who devised a platform to share technology tips for teachers, students and researchers mostly active in post-secondary education. ProfHacker and Play the Past dip not only from the same well of digital humanities enthusiasts, they have also led a somewhat parallel existence, with activity peaks and lulls that mirror one another—at least if we consider the recorded permalink structures of the WayBack Machine for ProfHacker and Play the Past.
At the time of his involvement with ProfHacker, Watrall was an assistant professor in the Department of Anthropology at Michigan State University. Alongside his teaching and publishing activities, Watrall was also a participant in the burgeoning movement of the "digital humanities" across universities in the English-speaking world. In 2009, Watrall was also the Associate Director of MATRIX: The Center for Digital Humanities & Social Sciences at MSU, a research center specializing in the preservation, access and repurposing of archival and archaeological records and collections.
Because of his digital humanities pedigree, interdisciplinary bent, and direct involvement with ProfHacker and the MATRIX milieu, Watrall was able to muster together, through personal contacts across disciplines, institutions and geographical boundaries, a merry band of playful thinkers who were lacking a venue for their discussions and thought experiments. Play the Past was born of this nexus of institutional and informal connections. Until 2018, when the site installation migrated to Montreal, Canada, Watrall's original installation of the Play the Past website was hosted, until 2018 on Matrix servers, with Watrall also acting as webmaster.
Digging through the group's archives reveals one key aspect of this initiative: Play the Past was a community before it became a blog.
Once Watrall got the ball rolling through the ProfHacker / MATRIX grapevines, Roger Travis, Kevin Ballestrini, Trevor Owens, Rob MacDougall, Emily Bembeneck, Shawn Graham and Jeremiah McCall helped form the group in the spring and summer of 2010 (more on individual contributors in our second 10th anniversary post).
In the months leading up to Play the Past's fall 2010 website launch, Watrall had become the key driver of the group. As a "fork" of the ProfHacker culture code, PtP began on google groups: the first "test message" was written by Watrall on June 28, 2010. In his message, Ethan shared with the fledgling what was to become the official Play the Past logo. Google Sites then became the collaborative tool of choice, after Ethan had fielded the pros and cons of ProfHacker collab tools (PBWorks, MediaWiki) with the group.
By the end of June, Watrall had secured the playthepast.org domain name. Watrall submitted to the group two iterations of a Play the Past (PtP) WordPress theme, and the group picked "design #1", Watrall's iteration of the Delicate News theme by Elegant Themes—in use until Nov 2020. By the end of August, 2010, the PtP WordPress site and collaboration tools were set up. Watrall then checked in with everyone on the optimal publishing schedule for the group, given ongoing collaborator commitments.
Group members edged toward a soft launch—a few posts published before an official announcement. The community finally settled on the two post per week schedule—still in use today—as the site was set to launch. The pre-launch scheduled post hopper filled up so quickly the group struggled with "spill-over content". Unfazed, Watrall wrote to the group ten days prior to launch :
" […] if you haven't claimed post slots in the schedule, please do so ASAP. I'm very, very wary about launching with a full schedule (up until the winter break). With the number of contributors we've got and the new number of "official" slots per week, there is no way we shouldn't have things filled up right off the bat. If you find that all of the "official" slots have been taken, we can do one of three things:

If you find that all of the "official" slots have been taken, we can do one of three things:

(1) go back to a M/W/F "official post" schedule (with all of the "bonus slots" for spillover)

(2) use the "bonus slots" as needed to make sure that everyone contributes at least 1 post/month

Thoughts?"
Come official launch day—Nov. 17, 2010—Watrall published an official announcement on the blog and… fell ill for the occasion! Pre-scheduled posts were also published retroactively (Play the Past's very first article was written by Shawn Graham, "Writing History with Interactive Fiction", retro-published on Sept. 20, 2010. Damn Canadians 😉 ) Realizing there was confusion re: the home page design, Watrall shares a "post flow" graphic, to show the chronological order of posts on the PtP WordPress front page.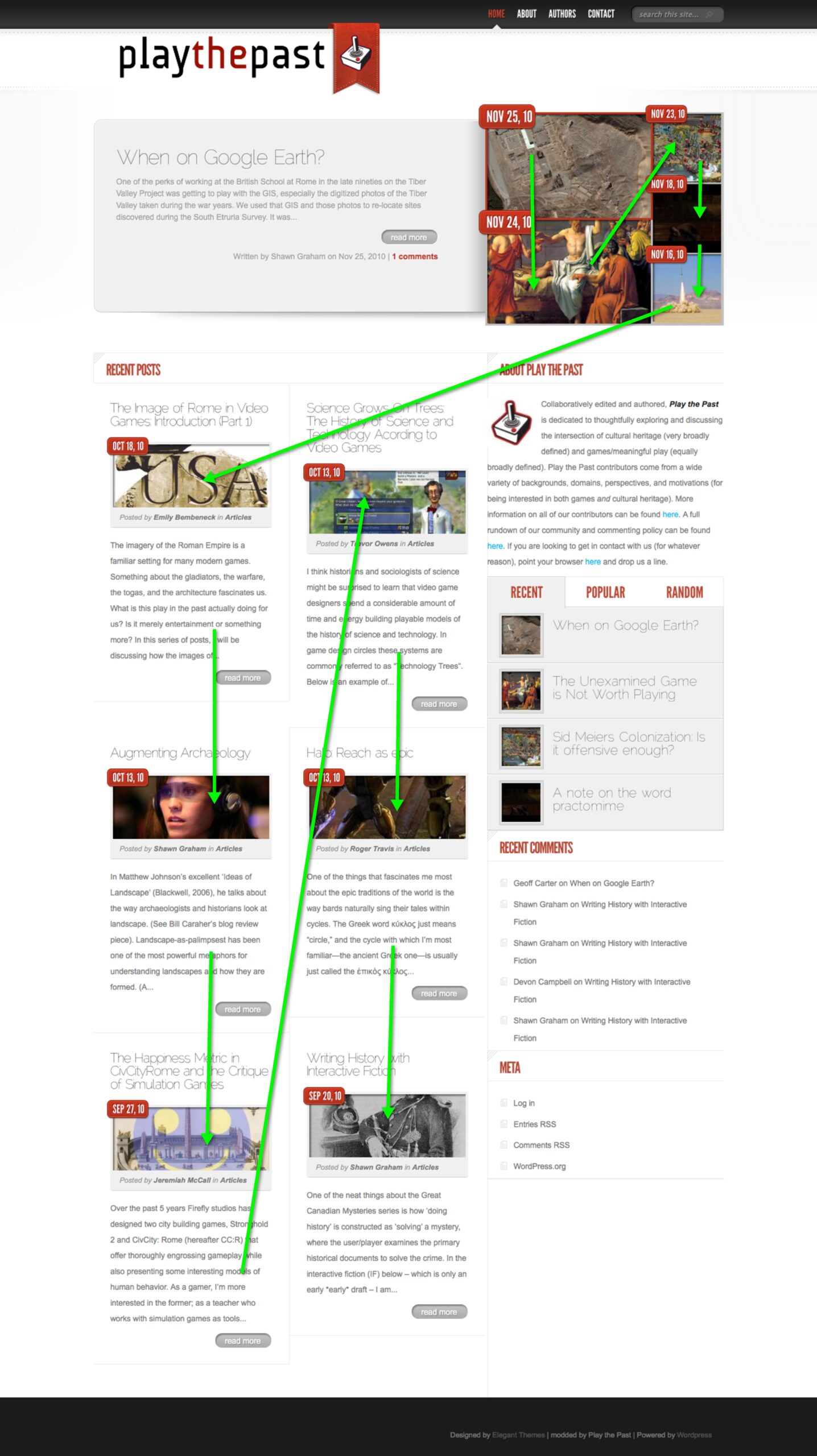 Moving toward the holidays, Matthew Kirschenbaum joined the Play the Past roster. the PtP work toward their first collaborative post on what their Holiday play plans are going to be. Watrall notes that Trevor Owen's article on Fallout is responsible for a post-launch traffic spike—to this day, Owen's 2010 Fallout article remains the post with the most views on Play the Past!
Stand-out articles published in the post-launch months:
The Happiness Metric in CivCity: Rome and the Critique of Simulation Games—Jeremiah McCall
Sid Meier's Colonization: Is it offensive enough?—Trevor Owens
The Image of Rome in Video Games: part 1, part 2—Emily Bembeneck
The Unexamined Game is Not Worth Playing – Jeremiah McCall
Conflicting the Past—Matthew Kirschenbaum
Toy Stories—Rob MacDougall
2011-2012
The first two years of Play the Past are marked with prolific output and intense (internal and external) dialogue and discussion. Mark Sample, Katy Meyers, Andrew Devenney, Rebecca Mir and Jeremy Antley joined the group, helping solidify its reputation in the small niche world of publications dedicated to the burgeoning field of Historical Game Studies.
With Watrall at the helm keeping everyone motivated, Play the Past authors penned many of the articles which were to become legacy texts of Play the Past, to name a few :
Seeing Like SimCity—Rob MacDougall
Emergent gameplay, bardic style—Roger Travis
Digital Games as Public Archaeology—Ethan Watrall
War, What is it Good For? Learning from Wargaming—Matthew Kirschenbaum
Platform Studies as Historical Inquiry; or, Videogames Bleed History—Mark Sample
Meaningful Play in Archaeology—Katy Meyers
Playing with World Religion: What Religion Means in Civ IV – Trevor Owens
Historical Simulations as Problem Spaces: Some Guidelines for Criticism—Jeremiah McCall
Spatial Storytelling—Emily Bembeneck
Playing at Slavery: Modding Colonization for Authenticity—Rebecca Mir, Trevor Owens
Better Folklore through Alchemy—Jeremy Antley
In May of 2011, debate on the Play the Past mandate revived the issue of the blog's scope. Should the history of games also be an area of investigation, or should the blog more strictly cover the treatment of historical discourse (and cultural history, broadly defined) in games ? The upshot of this discussion was an "About" page update, with the adoption of the broadest possible interpretation of the past as "cultural heritage".
Under constant sollicitations from the outside, Watrall created the "guest author" slot in the Play the Past schedule in September of 2011, opening the door to outside contributions without the need to commit to a regular publishing slot. As of November 2020, 42 blog posts and articles will come to be published under the "PastPlayer" moniker (note—with the editorship of P. Christiansen and G. Roy, the "PastPlayer" was phased out, in favor of author names assigned to each published article).
Play the Past also broadened its reach in 2011 by publishing game developer interviews, conducted by PtP authors.
Finally, in 2011 and 2012 Play the Past authors also participated in and attended thematically-related academic conferences, such as THATCamp, the Meaningful Play conference, the Connections Wargaming conference, the Games+Learning+Society conference.
At the Meaningful Play conference of Oct. 2012, Play the Past authors Ethan Watrall, Roger Travis, Emily Bembeneck and Jeremy Antley hosted a round table discussion entitled "Play the Past: Where Meaningful Play and Digital Humanities Meet to Talk" with the aim of presenting Play the Past to the broader community. As an exchange between Bembeneck, Travis and Antley reveals, internal discussions leading to the preparation helped once again bring to the fore the core areas of investigation led by the community:
Emily Bembeneck :
"If we unpack the example questions Roger gave, ("In what sense, if any, is any form of game studies part of digital humanities? What can PtP tell us about that, or anything?"), perhaps we could start a list like:

How do you (each member of the panel) think your work bridges the gap between game studies and digital humanities? I think this would give us both the chance to discuss whether there is a gap and how our work may make such a gap a non-issue.

What does Play the Past do for digital humanities?

What does digital humanities in all its digital-ness have to do with the past? How can the digital help us understand the pre-digital?

Are games necessarily digital? When writing this question, I was mostly thinking of my own work that focuses on human interaction and cultural identity which just happens to be in a virtual space, thus disconnecting the digital from the human within it. It's also a nice counter to "well of course game studies are digital humanities" as a potential reaction to the question at the top, especially seeing as how game studies tend to focus particularly on digital games. I don't actually work on boardgames or P&P really but I know Jeremy does. Feel free to rephrase/adjust!

What does play have to do with the past? How does the intersection of play and the past create meaning? You know, because we're at Meaningful Play…

How does the digital change ideas of cultural heritage and history? Here, mostly thinking about information access, new ideas of expertise, communities based on primarily digital aspects (a game, a forum, etc.)."
Answered by Jeremy Antley :
"I think tackling digital issues- especially how we see our work connecting to the amorphous concept of Digital Humanities- is entirely appropriate and will probably be one of the concrete issues audiences can seize upon. But I would caution making the extended comments exclusively 'digital humanities' focused. For one thing, my topic only discreetly touches anything digital at all. That's not to say 'don't leave me out!', but rather that gaming studies, especially recently, have an almost laser dedication to exploring digital games but not analog ones. We can open that up a little, given that Play the Past has looked at not just digital games, but also their analog brethren.

That being said, I have *lots* to talk about regarding how digital technologies change the ways players interact with their board games, so I'm very happy to talk about digital subjects.

We should think about when we are talking about digital humanities versus just simply 'humanities'- or even why this dichotomy is unhelpful/misleading. This ties into the first question (the gap issue) and I think that's a great place to start.

We should definitely harp on what Play the Past contributes to our disciplines. I think our aim and mission is definitely different from a 'journal' viewpoint, but there is also a much needed space for our kind of work to not only help establish cross-disciplinary linkages, but also to cast out towards a more broad audience that has interest in our topics but not necessarily the (academic?) depth each of us brings. Not to sound capitalistic, but let's sell the brand!

I like the digital question re: understanding the pre-digital. Lot's of great ground here that, I think, we all have different perspectives on. I certainly have some opinions on the role board games (and really any historical game) can play in the study of History.

The last question, 'are games necessarily digital?', can be reworked into something like, "What are specific issues related to games that are digital, and how does this differ or correspond to issues related to analog gaming?' That way we can address the 'is it just digital humanities' question re: games, as well as demonstrate that digital games cross over into the analog and vice versa. Not only are methodologies and techniques used by digital humanists helpful in studying games, but also other disciplines can shed light on the same subject. Again, this goes back to the 'are digital humanities something new or just new techniques/methodologies' question, which is certainly a sticky wicket, and I'm not sure we want to delve too deeply here. But maybe we should at least address the issue, given that it's an important topic."
By all reports, the talk went down as a success. More importantly, the ironing out of core definitional issues by Play the Past speakers at the conference helped crystallize the identity of the community and the blog.
2013-2016
After a six month hiatus in google groups communications, Watrall announced in June, 2013 that he was stepping down from editorship duties and that Trevor Owens and Shawn Graham would be taking up the mantle of editing Play the Past, and moderating community discussions.
To energize the community, Owens and Graham presented six new PtP guest writers and potential regulars, including present Play the Past editors Peter Christiansen and Gilles Roy. In the summer and fall of 2013, Play the Past welcomed Angela Cox, David Hussey, Christopher Sawula and Jeff Mummert to the fold.
In early 2014, Shawn Graham fielded a proposition of a Play the Past compilation book. To the group, Graham shared a pdf version of a first edit proposal, and took more input at potential publishers from other contributors—Graham even proposed the self-publishing route. The project unfortunately did not pick up enough steam to leave the departure station.
Though the volume of articles published lessened after the Watrall editorship years, the 2013-2016 period was also a productive period, with many stand-out articles that will help establish the "evergreen" status of Play the Past in the game studies blogosphere. Notable publications from this period include:
No More Chocolate-covered Broccoli: Collaboration between Game Designers and Historians is Key—Rebecca Mir
It's All About Meaningful Decisions: Game Design Toward Nuanced Historical Interpretation and Complexity—Trevor Owens
Of Carrots and No Sticks; or, on Teaching Digital History with Gamification—Shawn Graham
Assassin's Creed: Black Flag and Historical Representation—Christopher Sawula
Technoscience in Virtual Worlds—Peter Christiansen
Reading in the Cold War in Video Games—David Hussey
Teaching Games as Texts (series)—Angela Cox
Being Historical: How Strategy Games are Changing Popular History—Gilles Roy
2017-present
The 2017-2019 period marks the dispersal of the original Play the Past community. This was accompanied by an overall lull in production, and even a move to close down and archive the project, as editors Trevor Owens and Shawn Graham were no longer able to muster the troops, nor commit time to cultivating the Play the Past grapevine, given their extensive professional engagements and occupations.
In early 2018, long-time contributors Peter Christiansen and Gilles Roy picked-up the torch of Play the Past editorship. The ensuing period saw a slow-down of publications, following a decision by the new editors to selectively cultivate guest writers for less frequent, but high quality output.
The impact of Play the Past on the wider community
Though Play the Past remains, at its core, a community of researchers who share ideas, thoughts and musings on a blog, the writings published on Play the Past have, over the years, been widely disseminated in scholarly literature in fields related to the digital humanities and game studies.
First, Play the Past articles have been cited in a plethora of academic journals, such as Simulation & Gaming, The History Teacher, Entertainment Computing, Rethinking History, Game Studies, Digital Scholarship in the Humanities, Public Archaeology, Journal of Digital Humanities, Journal of Games Criticism, Journal of Interactive Humanities, to name but a few.
As of November 2020, Google Scholar aggregator tools have recorded the following metrics, with the "playthepast.org" keyword in scholarly citations :
Publication years: 2010-2020
Citation years: 10 (2010-2020)
Papers: 137
Citations: 953
Citations/year: 95.30 (acc1=40, acc2=25, acc5=12, acc10=4, acc20=2)
Citations/paper: 6.96
Authors/paper: 1.49/1.0/1 (mean/median/mode)
Age-weighted citation rate: 208.94 (sqrt=14.45), 186.20/author
Hirsch h-index: 13 (a=5.64, m=1.30, 731 cites=76.7% coverage)
Egghe g-index: 29 (g/h=2.23, 877 cites=92.0% coverage)
PoP hI,norm: 13
PoP hI,annual: 1.30
Top citations cluster around the following bibliography:
MM Ridge (2014) Crowdsourcing our cultural heritage., books.google.com, cited by 181 (30.17 per year)
A Chapman (2016) Digital games as history: How videogames represent the past and offer access to historical practice., books.google.com, cited by 179 (44.75 per year)
J McCall (2016) Teaching history with digital historical games: An introduction to the field and best practices. Simulation & Gaming, journals.sagepub.com, cited by 55 (13.75 per year)
J McCall (2012) Navigating the problem space: The medium of simulation games in the teaching of history. The History Teacher, JSTOR, cited by 54 (6.75 per year)
R Mir, T Owens (2013) Modeling indigenous peoples: Unpacking ideology in Sid Meier's colonization. Playing with the past: Digital games and the …, books.google.com, cited by 35 (5.00 per year)
DT Alarcia, DI Barco (2014) Videojuegos y aprendizaje de la Historia: la saga Assasin's Creed. Contextos educativos: Revista de …, dialnet.unirioja.es, cited by 34 (5.67 per year)
E Bonsignore, D Hansen, K Kraus, A Visconti, … (2013) Playing for real: designing alternate reality games for teenagers in learning contexts. Proceedings of the 12th …, dl.acm.org, cited by 33 (4.71 per year)
E Champion (2016) Entertaining the similarities and distinctions between serious games and virtual heritage projects. Entertainment Computing, Elsevier, cited by 32 (8.00 per year)
TJ Copplestone (2017) But that's not accurate: the differing perceptions of accuracy in cultural-heritage videogames between creators, consumers and critics. Rethinking History, Taylor & Francis, cited by 30 (10.00 per year)
A Chapman (2016) It's hard to play in the trenches: World War I, collective memory and videogames. Game Studies, gamestudies.org, cited by 29 (7.25 per year)
E Bonsignore, K Kraus, A Visconti, D Hansen, … (2012) Game design for promoting counterfactual thinking. Proceedings of the …, dl.acm.org, cited by 27 (3.38 per year)
JF Dunnigan (2016) Zones of control: Perspectives on wargaming., books.google.com, cited by 27 (6.75 per year)
EM Champion (2017) Digital humanities is text heavy, visualization light, and simulation poor. Digital Scholarship in the Humanities, academic.oup.com, cited by 15 (5.00 per year)
K Meyers Emery, A Reinhard (2015) Trading shovels for controllers: A brief exploration of the portrayal of archaeology in video games. Public Archaeology, Taylor & Francis, cited by 13 (2.60 per year)
K Schrier (2014) Using digital games to teach history and historical thinking. Learning, education and games, kilthub.cmu.edu, cited by 13 (2.17 per year)
A Testa (2014) Religion (s) in videogames. Historical and anthropological observations. Online-Heidelberg Journal of Religions on the …, heiup.uni-heidelberg.de, cited by 13 (2.17 per year)
J Antley (2012) Games and historical narratives. Journal of Digital Humanities, journalofdigitalhumanities.org, cited by 10 (1.25 per year)
…
The total list of citations, of course, is much longer, and follows a long tail curve of diffuse citation distribution. Some of the top citations above are from Play the Past authors, whose work derived from Play the Past has followed the formal academic route. Most are from researchers active in digital humanities-related fields, whose publishing activity has helped extend traditional humanities disciplines into new modes of interdisciplinary research.
One notable outcome of Play the Past's early start in the historical game studies scene has been the formal publication of several Play the Past articles—albeit in reworked form—in monographs that have come to comprise the (published) back-bone of historical game studies.
Prior to the launch of Play the Past in 2010, four future Play the Past authors contributed an article each for Kevin Kee's digital humanities' compilation monograph Pastplay: Teaching and Learning History with Technology (which was eventually published by the University of Michigan Press in 2014). Article contributions to this volume would come to echo, either directly or indirectly, work on Play the Past by these authors:
Tecumseh Lies Here: Goals and Challenges for a Pervasive History Game in Progress — Timothy Compeau and Robert MacDougall
Contests for Meaning: Playing King Philip's War in the Twenty-First Century — Matthew Kirschenbaum
Rolling Your Own: On Modding Commercial Games for Educational Goals — Shawn Graham
Simulation Games and the Study of the Past: Classroom Guidelines — Jeremiah McCall
Three more Play the Past authors were also contributors to the 2013 compilation volume Playing with the Past: Digital Games and the Simulation of History, edited by Matthew Wilhelm Kapell, Andrew B.R. Elliott. Emily Bembeneck's early Play the Past articles on the image of Rome in video games was published as Phantasms of Rome: Video Games and Cultural Identity in Kapell and Elliott's book. Likewise Rebecca Mir and Trevor Owen's landmark critique of Sid Meier's Colonization was reworked and published under the name Modeling indigenous peoples: Unpacking ideology in Sid Meier's colonization in that same volume
Outside of academia, Play the Past has also been referred to by a diverse range of publications, including academic blogs / journals, social media / news aggregators, niche game journalism publications, game criticism blogs and game developer / modder forums.
As of Nov. 12, 2020, the following (selected) domain-name referral metrics have been compiled, to highlight the variety of sources that have shared Play the Past articles:
(*note: the years 2010-2015 and 2018-2020 are fully accounted for, statistics-wise. An undetected faulty analytics plugin caused a gap in statistical capture between the years 2016-2018).
The top web referrals to Play the Past have been, of course, search engines and social media aggregators. Web searchers have not only come to Play the Past from English-speaking countries, but from all corners of the world. Play the Past's Twitter account also accounts for much of the social media sharing, alongside the now-extinct StumbleUpon. Play the Past articles have regularly surfaced in Reddit discussions in gaming and history subreddits, such as r/Games/, r/ludology/, r/AskHistorians/, r/historyteachers/.
Following this, niche gaming publications and game criticism blogs have provided us with the lion's share of referrals, most especially weekly or monthly reviews of game criticism on the web, such as Rockpapershotgun's "The Sunday Papers" series, critical-distance.com's "This Week in Video Game Blogging" and Gamasutra's "This Week in Video Game Criticism" and Kill Screen's "killscreendaily". Niche game journalism and criticism blogs such as kotaku.com, escapistmagazine.com, playisthething.com, thegamecritique.com, and nightmaremode.net also took part in the conversation seeded on Play the Past, by sharing and discussing our articles.
Community discussions of Play the Past articles were especially lively in developer / modder forums such as longbowgames.com, forums.civfanatics.com and with the wargaming community active at flashofsteel.com, grognard.com, paxsims.wordpress.com and consimworld.com. Of course, Play the Past authors also played a part in stoking interest and promoting the work done on Play the Past on their personal or professional blogs, most notably samplereality.com, gamingthepast.net, trevorowens.org, electricarchaeology.ca, robmacdougall.org, mkirschenbaum.wordpress.com and peasantmuse.com.
Finally, online groups advocating the study and dissemination of digital humanities were also instrumental in helping Play the Past make headways into various disciplinary quarters in the halls of higher education, with publications and wikis such as digitalhumanitiesnow.org, The Chronicle of Higher Education, museumgames.pbworks.com, and History @ Work.
Not to mention, of course: ProfHacker. 🙂
Coming full circle—and in conclusion to our Story of Play the Past—it seems fitting, dear reader, to allow you the pleasure of discovering Play the Past's most read articles, from 2010 to present. We will present to you, this coming Thursday, the individual members of this community, who have made Play the Past what it is today.
Play the Past Greatest Hits
Next up : The Play the Past Cast of Characters !